I love mason jars.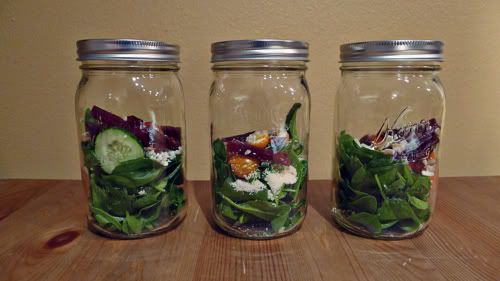 Since Drew got a new job downtown and can't come home during lunch anymore, we started packing our lunches every day. In an attempt to eat healthy this week (since I will be eating like crap next week - I can't believe Thanksgiving is already NEXT WEEK), I packed 3 days worth of salads on Sunday in mason jars.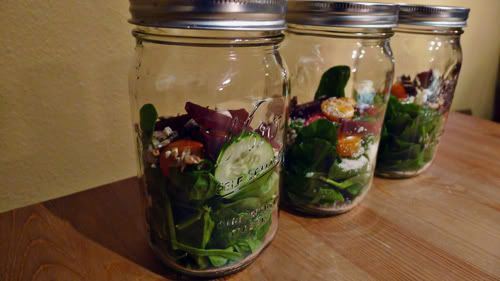 My salad this week consists of: spinach, baby tomatoes, green onions, cucumber, sunflower seeds, blue cheese or parmesan cheese, and pickled beets. I am currently obsessed with pickled beets.
When it's time for lunch I just add the dressing & shake the mason jar. Key to good salad for Ai = evenly coated in dressing. So good.
Another pro to the mason jar / packing salads ahead of time is that I eat what I buy. A lot of times our produce ends up going bad before we can finish eating it all. I'm hoping sealing the produce in a mason jar keeps it fresh a bit longer. And I'll stop skipping veggies.